Lunch at the highest pub in Africa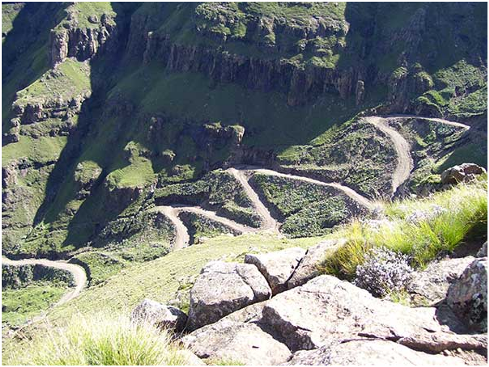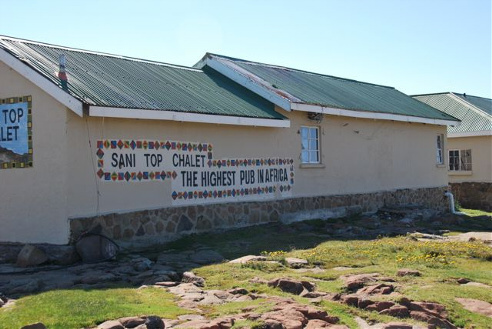 Trinity Tours will collect you from your accommodation at 6.30am.The Sani Pass was originally developed as a bridal path in 1913. This steep zigzagging pass climbs the face of the Drakensberg escarpment to an altitude of 2874m. The first vehicle negotiated the path in 1948 when it was no more than a littered donkey track. It is now used for the most part by 4×4 vehicles and has become a highlight for tourists visiting the Southern Drakensberg.The Sani Pass is the only access from KwaZulu Natal to the harsh environment of the Lesotho Highlands, the domain of the endangered Bearded Vulture, Basotho shepherds and their animals. The Route, aptly called the "roof of Africa", boasts to be the highest road in Africa and third highest in the world and peaks at a heady height of 3200m above sea level! Close to the Sani Pass summit, within a couple of kilometres, is the highest peak in Southern Africa, Thabane Ntlenyana, 3482m high.This is a bit of an adrenalin tour making it very popular. Trinity Tours takes you from your accommodation to Underberg where we hook up with the 4×4. The vehicles are all kept in top-notch condition, and extreme measures are taken to ensure the comfort of the customer, as the road up the pass can be rather bumpy at times.
Once at the Top of the Sani Pass-, we enjoy lunch at the highest Pub in Africa – The Sani Top Chalet. Lunch varies from R55-R135pp depending on your preference from the menu. (This will be for your own account.)
After lunch the Tour continues into a living Basotho village, where our experienced mountain guide will interest you on Lesotho and its people – the hardy mountainous Basotho folk. Traditional beer and homemade bread offered on request.
We wind down the Sani Pass after this cultural experience and arrive back in Underberg between 16h00- 16h30 depending on the wildlife spotted along the way. From here we head back to Durban arriving around 7pm.
Bring warm clothing, and your passport.
(Max 6 people)
I look forward to meeting you.
Brian High.